Christmas at St Andrew's Psalter Lane Church and beyond!
Our Services for Advent and Christmas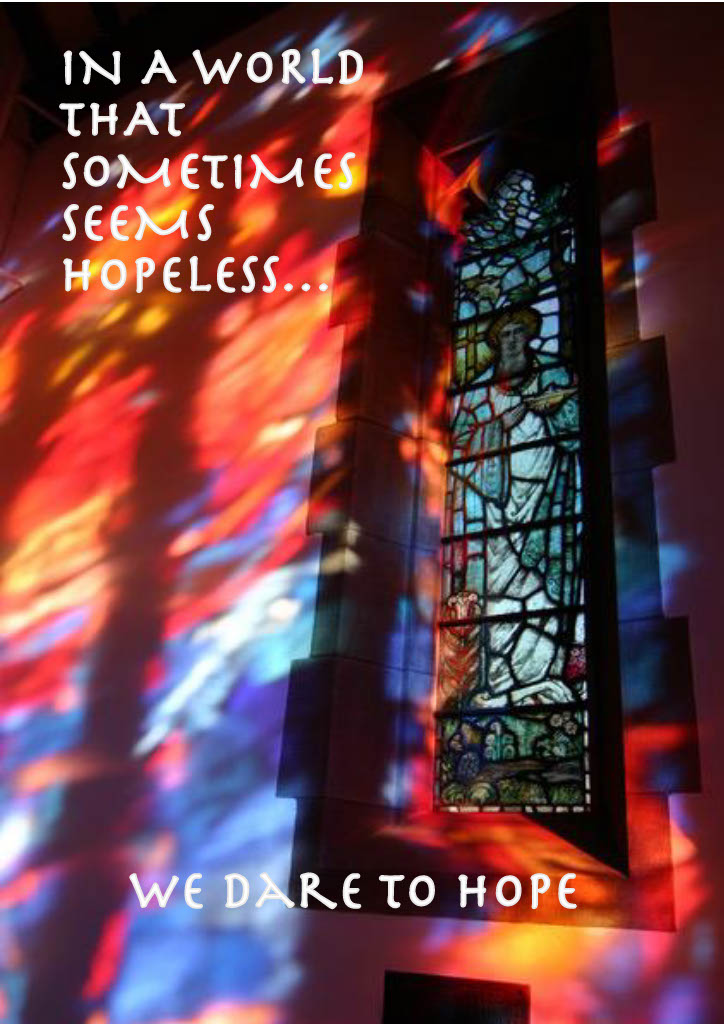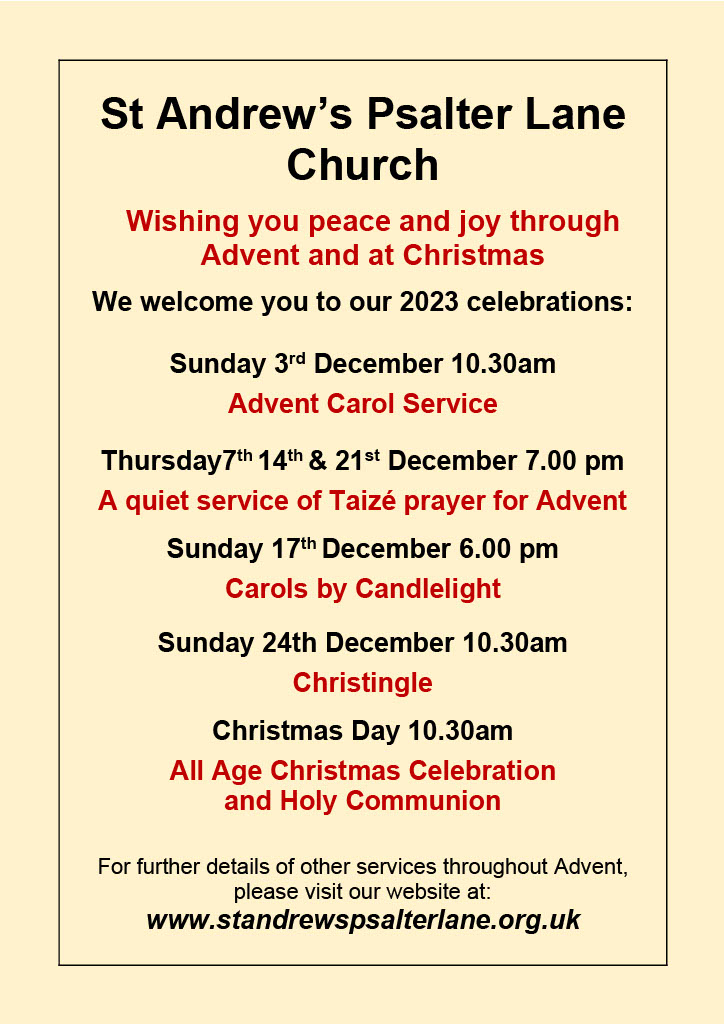 Advent and Christmas Music at SAPLC: A message from Kit Swanson:
Thanks to everyone who made the harvest singing such a success. There will be two opportunities for us to sing together as a choir this festive season. The first is on the first Sunday of Advent, 3rd December, at 10.30 am, and will be similar to the harvest festival in that the choir will lead singing as part of the service. The second is our Carols by Candlelight service on the 17th December, at 6.30pm. Rehearsals for these are as follows:
Thursday 30th November 7.30 - 8.30 pm
Sunday 10th December after church
Thursday 14th December 7.30 - 8.30 pm
Sunday 17th December 4.00 - 5.30 pm
And the music we have planned is:
Advent
StF 180 O come, O come Emmanuel
StF 181 Of the Father's love begotten
StF 188 There's a light upon the mountains
StF 188 Lo he comes with clouds descending (all congregational)
StF 179 My Lord what a morning in four part harmony as a choir piece.
Christmas
Choir stand-alone pieces:
Patapan
StF 210 Love Came Down at Christmas
The Calypso Carol
Still Still Still
Congregational:
H&P 104 Good Christians All Rejoice
H&P 98 Cradled in a Manger Meanly
StF 215 See Amid the Winter Snow
StF 213 O Little Town
StF 190 Angels from the Realms
StF 222 Who Would Think
StF 112 O Come
I look forward to seeing (and hearing!) as many people as possible at rehearsals! Please do get in touch kitswanson@outlook.com to let me know if you're coming along or to ask any questions.
As we are not yet even in Advent (!) I shall leave you with a more seasonally appropriate wish that there is space, reflection, and comfort in this period of remembrance. Keep well! Kit
Christian Aid carol singing, Saturday 2nd December Please 'Save the Date' for this year's carol singing. Christian Aid have permission to sing at the bottom of the Moor; they do have a permit for singing in Fargate, in which case they would be based at Central United Reformed Church, but the state of the area at the moment makes this look unlikely - watch this space for more information. They will probably combine some of the later groups and finish singing at 4.00 pm. Last year they raised £749 - Sheffield is the city that raises the most funds, over the year, for the charity.
We have received a phone call from Sara Millard, asking if there might be some people from SAPLC who plan to join the Christian Aid carol singing on the Moor, probably near Sports Direct, 2nd December 2.00 - 3.00 pm
If you plan to join in, please let Chris Rogers (Tel 2554540) know so that he can give Sara an idea of numbers.
More carols on 2nd December! 2023 Derbyshire Carol Workshop, Saturday 2 December 2023, 10.00am-5.00pm in Hathersage Memorial Hall. Details of what we will be singing will be posted shortly on the Village Carols website. In the evening we will have an informal carol sing in a local hostelry, venue to be confirmed. We hope you can come and support the day. Please book ASAP.
Go to https://www.villagecarols.org.uk/events/derbyshire-carol-workshop-2-dec-2023.html for further details and booking information
Handel's Messiah, 4th December at Victoria Hall, 7.00 pm Completed in just 24 days, Handel's Messiah is one of the most glorious and popular choral works. The Sheffield Bach Choir is pleased to be able to present our annual rendition of Handel's marvellous oratorio, accompanied by the National Festival Orchestra with four outstanding soloists. See the Diocese website for more details.
Places of Peace - A Christmas Event for Gaza Tuesday 5th December 12.30 - 2.00 pm The Amos Trust's Christmas tour stops off at St Aidan's Church, 2 Manor Lane, S2 1UF.
Join us for a light lunch and to hear about Amos Trust's work in Gaza and the West Bank featuring films and special guests from Palestine.
No charge, but contributions welcome towards costs, and the Amos Trust's Christmas appeal supporting partners in the West Bank and Gaza.
To register, go to Amos Trust Christmas Tour 2023
www.amostrust.org.uk/diary/amos-trust-christmas-tour-2023
There will be Palestinian refreshments
Taizé in Advent Quiet reflective worship with gentle repetitive singing on Thursdays at 7.00pm in the Church, December 7th, 14th & 21st.
Christmas Praise in the City On Thursday 7th December join Cliff College, Victoria Hall, The Foundry and the Sheffield Methodist Circuit for this unforgettable evening of festive joy, taking place at Victoria Hall, Sheffield! Get ready to immerse yourself in the spirit of Christmas as we celebrate the most wonderful time of the year and look forward to the coming of Christ at Christmas. Sing along with heartwarming carols, listen to the Salvation Army brass band, hear an uplifting message and soak up the Christmas atmosphere. They can't wait to welcome you to this magical evening! To help them estimate numbers, please reserve your space here: https://www.eventbrite.co.uk/e/christmas-praise-in-the-city-tickets-726694662297
Children's Craft Afternoon Sunday 10th December 4.30 - 6.00 pm Come and join the Junior Church for an afternoon of crafting, sing song and pizza as they make an altar cloth for Christmas - everyone welcome!
Christmas Concert with Sheffield Folk Chorale 13th December 7.00 pm Come and join us at Mother of God Church on Abbeydale Road for our Christmas Concert. Not only will you be able to celebrate the festive season by singing traditional carols but you will also be able to listen to the amazing Sheffield Folk Chorale performing and also help to raise much needed funds for St Wilfrid's Centre A large group of around 60 people make up the choir and it's sure to be a very memorable evening.
And just for fun! The Christian charity Speak Life has released the nativity story performed to the tune of 'Three Lions' by Baddiel, Skinner and The Lightning Seeds: 'Christmas Coming Home', with Nate Morgan Locke playing all the characters. Enjoy!
Another amusing Christmas song: Bethlemian Rhapsody. Enjoy it here!