Peace and Justice
Places of Peace - A Christmas Event for Gaza Tuesday 5th December 12.30-2pm
The Amos Trust's Christmas tour stops off at St Aidan's Church, 2 Manor Lane, S2 1UF.
Join us for a light lunch and to hear about Amos Trust's work in Gaza and the West Bank featuring films and special guests from Palestine.
No charge, but contributions welcome towards costs, and the Amos Trust's Christmas appeal supporting partners in the West Bank and Gaza.
To register, go to Amos Trust Christmas Tour 2023
www.amostrust.org.uk/diary/amos-trust-christmas-tour-2023
There will be Palestinian refreshments
Student Christian Movement Talk on Ecumenical Accompainiment Join us for a talk on 6th December from 6:00 PM to 7:00 PM from EAPPI (Ecumenical Accompaniment Programme in Palestine and Israel). Lucy will discuss the work of EAPPI in Israel and Palestine, and what we can do from the UK. This event is one of the many resources we are releasing to mark this year's Human Right's Day, as a way to commemorate the 75th anniversary of the Universal Declaration of Human Rights. With the latest events unfolding in Palestine and Israel, and the anniversary this year, there has never been a more relevant time for this talk to take place. There will also be time for questions afterwards. Location www.movement.org.uk/come to an event
President and Vice-President of the Methodist Church update on the situation in the Middle East
As deaths and injuries of civilians continue to rise in the Israel-Hamas conflict, we are heartbroken to see the devastation this is having on so many people living in the region. We believe in a God who weeps, and, alongside the Holy Spirit our Comforter, our hearts are breaking with all those whose loved ones have had their lives brutally cut short, for the terror felt by Israeli families, and the unimaginable wait that many face for news of the people being held hostage. We watch in horror as Gazan civilians flee for their lives, unable to leave Gaza and trapped in the midst of a violent and unpredictable conflict.
The situation may feel overwhelming; so much information, so much misinformation and so much misery. Where is our hope? Watching and reading news reports can leave us confused and feeling helpless. What can we do? As members of the Methodist Church we have witnessed the plight of the Palestinian people's oppression for many years and have sought to encourage those on all sides who are working for lasting peace with justice in the region.
Now we pray for all those people and groups we have met: Daoud Nasser from the Tent of Nations and the recipient of the World Methodist Peace Prize in 2018; Rabbi Nava Hefetz from Rabbis for Human Rights, the Wi'am Peace and Reconciliation Centre in Bethlehem; the staff of the Ecumenical Accompaniment Programme for Palestine and Israel, and the countless people and families in Gaza and the West Bank who we, as a Church, have supported over the years. We uphold them, praying for their safety, asking for God's protection and comfort. And we pray for those who have the power to effect change – that they will use this privilege wisely and well to put a swift end to this violence and aggression. We undertake to continue to pray that the beautiful peace of the Prince of Peace will manifest in our world, and we pledge ourselves once again to respond to the Gospel of God's love in Christ and to live out this discipleship in our worship and mission.
We call on the UK Government to do all it can to encourage dialogue between Israel, the Palestinian Authority, Egypt and states in the wider region. We urge our Government to use its influence to end the siege of Gaza that is depriving its population of water and food, and to call on all parties to abide by international humanitarian law.
The Revd Gill Newton, President; Deacon Kerry Scarlett, Vice President
As well as praying, there is a list of suggested actions we can take – see here.
News from Gaza, and a request for prayer
Anne Hollows writes:
[Caitlin's] dear friend and research assistant Rana, made the journey south to Rafah with her two small children, Hannah (2) and Mohammed (3 months) but it was so chaotic she returned to Gaza city to be with her husband and family. She told Caitlin that she was dressing the children in their best clothes so that if they were pulled from the rubble, people would know they were from a good family.
Please pray for them and all the other children and if possible, donate to Medical Aid for Palestine who have released all their supplies in Gaza and have much more waiting to be allowed through the crossing from Egypt. They have a lot of staff on the ground.
#CeasefireNow in the Gaza Strip and Israel petition
Over 300 charities from across the globe have signed the #CeasefireNow petition, an open call for an immediate humanitarian ceasefire in the Gaza Strip and Israel to prevent a humanitarian catastrophe and further loss of innocent lives.
The open letter, reproduced in part below, calls on all Heads of State, the UN Security Council, and actors on the ground, to prioritize the preservation of human life above all else.
Individuals can also sign the petition at https://www.change.org/p/ceasefirenow-open-call-for-an-immediate-ceasefire-in-occupied-palestinian-territory where you will also find the full text of the letter and a list of signatories.
Open letter
#CeasefireNow: Open Call for an Immediate Ceasefire in the Gaza Strip and Israel to Prevent a Humanitarian Catastrophe and Further Loss of Innocent Lives
We have witnessed unfathomable death and destruction in the Gaza Strip and Israel. Thousands of people have been killed, injured, displaced, and nearly two hundred remain held hostage, including children and elderly.
In Gaza, the UN has said that water, food, fuel, medical supplies, and even body bags, are running out due to the siege. The UN warned that people – particularly young children – will soon start dying of severe dehydration. Neighbourhoods have been destroyed and turned into complete rubble. Palestinians in search of safety have nowhere to go. Many of those who relocated from northern Gaza to the south after the relocation order by the Israeli army were reportedly bombed as they attempted to flee or once they arrived in southern Gaza.
The events of the last week have led us to the precipice of a humanitarian catastrophe and the world can no longer wait to act. It is our collective responsibility.
On Sunday, October 15th, the United Nations Humanitarian Coordinator to the Occupied Palestinian Territory appealed to all parties to the conflict, and to Member States with influence, to urgently agree to a humanitarian ceasefire.
Fighting the Anti-Refugee Laws in our communities
In July 2023, the passing into law of the Illegal Migration Act created a near-total ban on seeking safety in the UK. But against huge odds and in the face of the UK Government's determination to push through these cruel and divisive measures, communities across the country have united to fight this anti-refugee bill and defend the right to seek safety. As we face the implementation of this Act and the continued fight against the #AntiRefugeeLaws, it's important to look back and recognise how our communities and local leaders have mobilised, and recognise our growing collective strength and power as we move forward to repeal this appalling Act.
Go to https://asylummatters.org/2023/07/26/fighting-the-anti-refugee-laws-in-our-communities/ to see what has been done already, and information on how to take further action.
The recent event 'How to talk about asylum' was recorded and is now available on YouTube. More events are being planned, so watch this space!
City of Sanctuary is looking for passionate and dedicated individuals to join their Board of Trustees, and also for the Treasurer position. As a trustee, you will play a key role in guiding and supporting the organization as they work towards creating a city that is safe and welcoming for people seeking sanctuary. All details of these posts can be found on the Sheffield City of Sanctuary website.
Church Leaders have signed a joint statement expressing opposition to the government's new 'Illegal Migration Bill'. To see what they said, see here.
Maintaining hope and solidarity in the face of hostile rhetoric - please read the City of Sanctuary Sheffield article here.
Safeguarding people who are LGBT+ within the Methodist Church
This webinar, held on 24th January 2023, is now available to watch here.
You can read the the answers to the questions or comments posed in the Q&A function during the webinar, along with links to some helpful organisations, here.
From the Methodist Church website
On the Situation of the Palestinians
The situation of Palestinians in the Israeli-governed Holy Land is significantly worse today than it was a decade ago, according to an international delegation of Methodist leaders who just completed a five-day visit marking the 10th anniversary of the Jerusalem-based Methodist Liaison Office (MLO).
The group represented the three organizations that sponsor the Office, which provides information on conditions in Palestine/Israel to Methodists visiting the area and to constituents around the world. The partners are the World Methodist Council, the General Board of Global Ministries of the United Methodist Church, and the Methodist Church in Britain.
The delegation members talked to Palestinian Christians, Israeli human rights groups and Jewish representatives. They visited groups and projects supported by the MLO and heard first-hand how Palestinians are affected day to day by the Israeli occupation. They also heard from six non-governmental organizations (NGOS) that have been shut down by the Israeli government on charges of links to terrorist organizations.
Their joint statement said:
"During our visit we have been shocked by the violence we have witnessed, the growth in the number of illegal settlements, and the number of young Palestinians who are being forced to leave their homes. We are distressed to hear the number of our sisters and brothers in the area has significantly decreased which is devastating for a Christian presence in the Holy Land.
"We are bewildered by the apparent lack of desire by the Israeli Government to find a way to ensure that all communities live peacefully alongside each other, and by the disproportionate responses shown by the security services. We watched as tear gas rained down on a small group of teenagers in a refugee camp who had been throwing rocks.
"During our tenth anniversary service in Jerusalem we were sad that many of our Palestinian partners were unable to join us because they were not issued with the travel permits required by the Israeli Government for a worship service just six miles away.
"We visited the Tent of Nations, recipient of the World Methodist Peace Prize Award in 2018 and heard of their 32-year struggle to stay on the land they have farmed for 100 years. They have suffered violent attacks to the land they own and on family but continue faithfully to only adopt non-violent resistance.
"Every person we met urged us to return to our homes and tell everyone what we had seen, and in honoring this we call on Methodists worldwide to work for peace in the Middle East, whether that is by lobbying politicians or supporting groups who work for peace. We urge all governments to support measures that respect international law and to resist actions that attempt to normalize the illegal occupation.
"We also call on all Methodists who are visiting the region to not only visit the Holy sites, but to meet Palestinians and Christians who are most affected by the occupation while they are there so they can hear and see first-hand what their lives are like. The MLO is keen to arrange such encounters. We ask all Methodists and Christians worldwide to continue to hold everyone affected by the situation in their prayers."
Talk of invasion is grossly exaggerated The graph below shows the numbers of asylum seekers received per capita of population across Europe. As you can see, the U.K. figure puts us at the bottom of the league. We're the graph to include countries in Africa, or adjacent to conflict areas such as Turkey or Jordan, the position of Europe as a whole would be much lower. Please share this widely and tell your friends. These emotive terms such as invasion or swarm are designed to create a moral panic.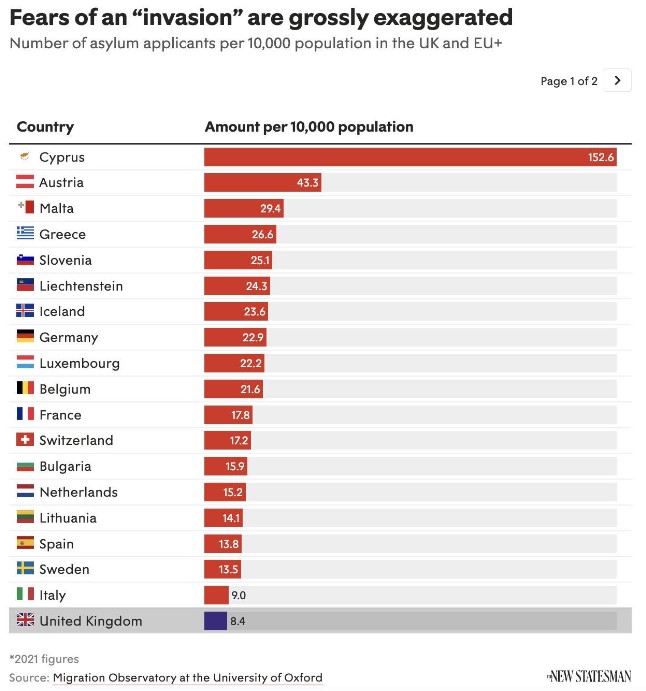 Can You Help Those Most Affected By The Cost Of Living Crisis? This will be a bleak winter for many low income families.. The South Yorkshire Community Foundation (SYCF) has set up a Cost of Living Fund, which gives grants to community groups that help to reduce food and fuel poverty eg food banks. The Diocese of Sheffield's Board of Faith and Justice urges people who can afford to do so to donate to this Fund (or a comparable charity).
People, could you donate all or part of the following Government provisions:
*All households are receiving £400 energy bill discount in 6 instalments this winter.
* Households in bands (A) to (D) should already have received £150 Council Tax rebate.
* Pensioners will receive a £300 Cost of Living Payment alongside their Winter Fuel
Payment.
If you would like to donate to the SYCF Cost of Living Fund, please look up
https://www.sycf.org.uk/southyorkshirecostoflivingfund/
Churches respond to risk to benefit levels The Methodist Church in Britain, the United Reformed Church and the Baptist Union of Great Britain respond to the proposal to limit the uprating of benefits, risking a real terms cut to benefit levels:
The social security system should prevent families from being pushed into hardship, yet foodbanks are facing rapidly rising demand and almost half of claimants receiving Universal Credit report skipping meals to make ends meet. The value of benefits has declined for the last decade and already an average family of four relying on Universal Credit will be £1,400 worse off this winter than last – despite the interventions already put in place. Against this background it would be outrageous to erode benefits further.
For months we have called on government to provide targeted support to the lowest income households, who are at the sharp end of rising costs. Without that additional help huge numbers of families – particularly families with children – will face impossible choices to make ends meet. The proposal to link benefits to wages rather than prices would mean the largest real terms cut in benefits ever at a time when low-income families are already facing increased hardship. Such a decision would lack both compassion and morality.
At the beginning of his ministry, Jesus declared "I have come to bring good news to the poor". We cannot stay quiet when vital support to the communities we are part of is threatened. We call on the Government to reaffirm its commitment to uprate benefits in line with prices and to provide targeted support to those families who are at the sharpest end of the cost of living crisis.
Signed by
Revd Fiona Bennett, Moderator of General Assembly, United Reformed Church
Revd Graham Thompson, President of the Methodist Conference, The Methodist Church in Britain
Revd Lynn Green, General Secretary, Baptist Union of Great Britain
Missing people in Ukraine Some of you will remember the Nexus article by Bel Trew about the rebuilding of a church in Beirut. Bel has spent much of the last 8 months in Ukraine and the first item in this broadcast is about her work on missing people in Ukraine.
https://www.bbc.co.uk/sounds/play/m001d57b?partner=uk.co.bbc&origin=share-mobile
Anne Hollows