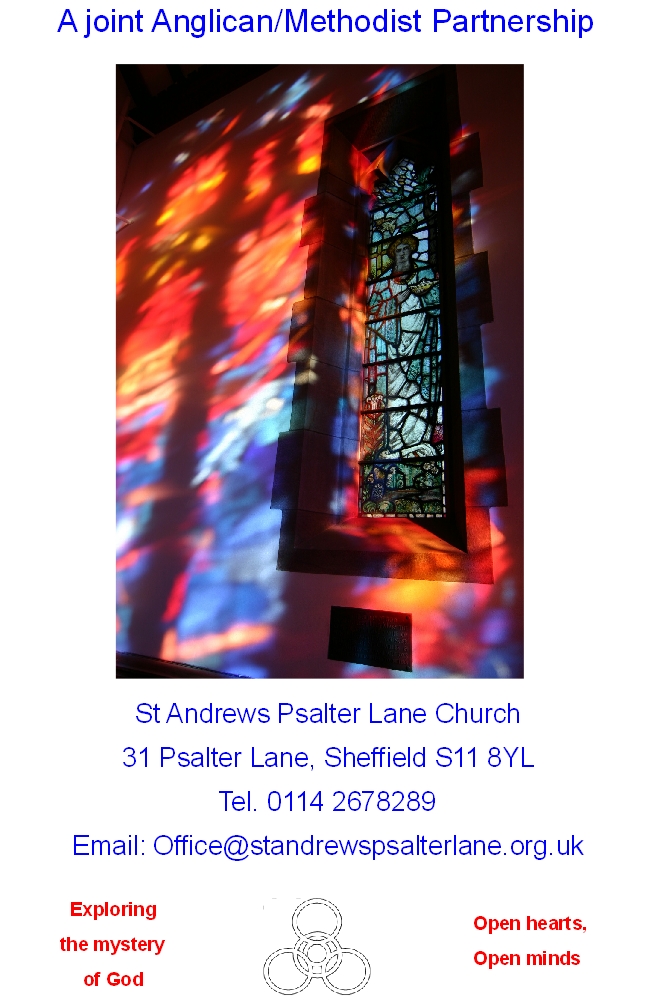 ---
Sunday Morning Service at 10.30 am
Welcome to our online service for Sunday 29th November, Advent Sunday, which is led by Gareth.
You are invited to have a bit of bread and a drop of wine or juice for the Communion and a candle to light for the prayers.
As usual, it will become public at 10.30 and continue to be available thereafter.
The Junior Church activity is available here.
Julia and Zac coloured some lovely Advent calendar pictures last week: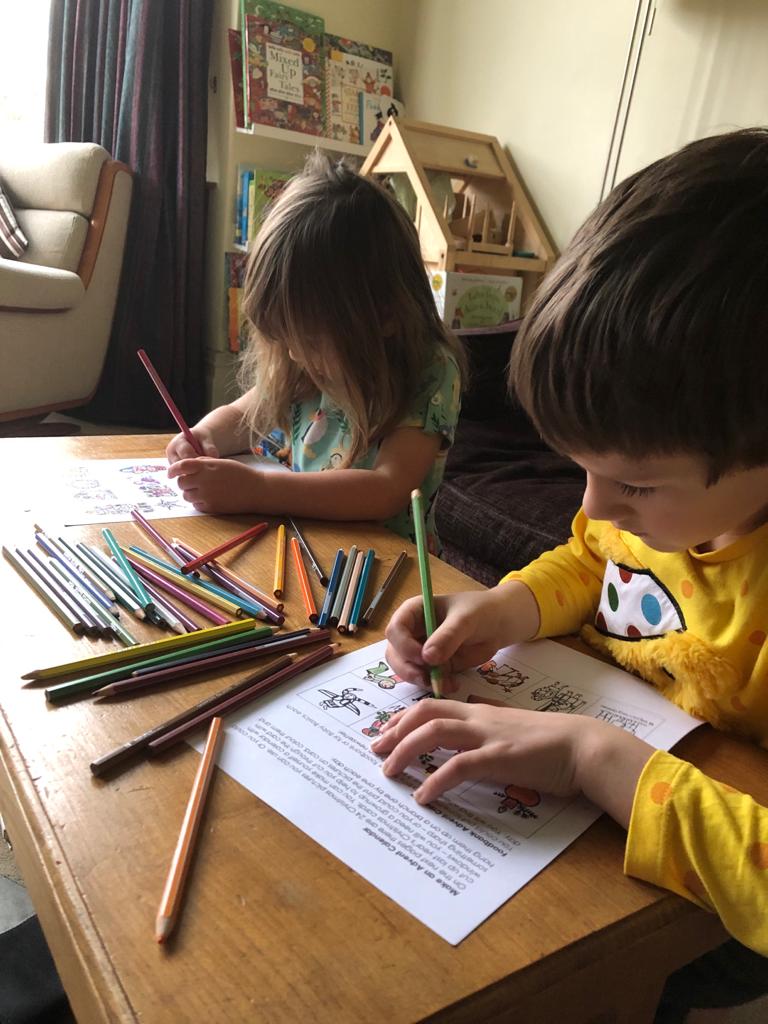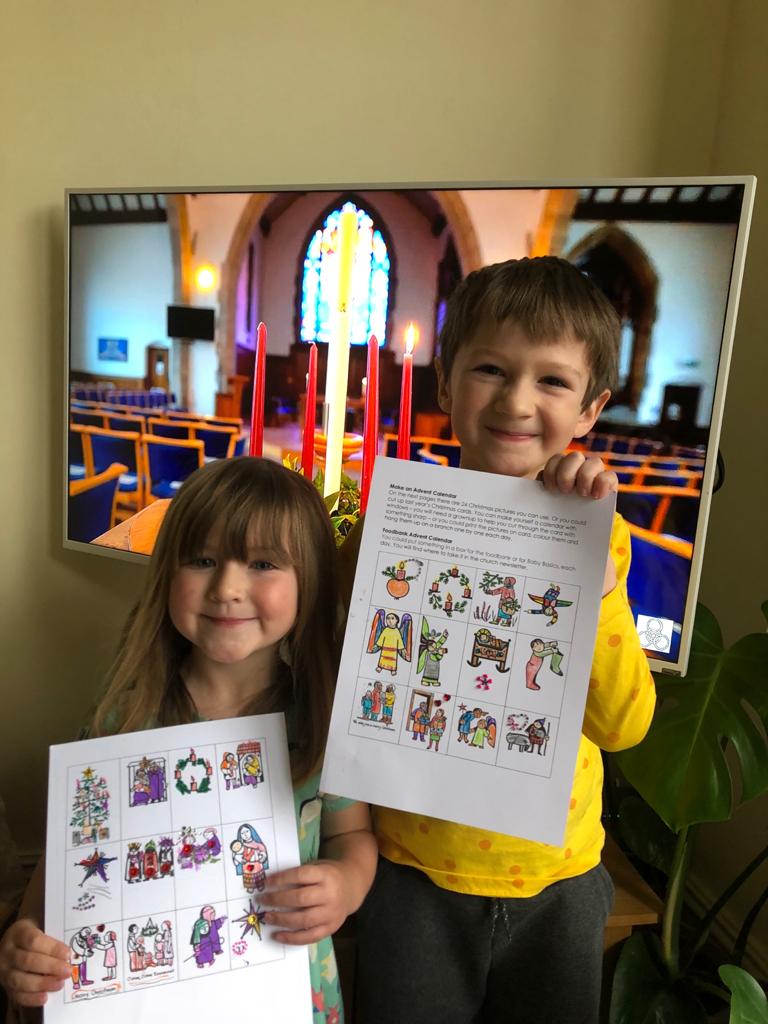 Live Worship at St Andrew's Psalter Lane Church
We are delighted to announce that we will soon be open for live worship again!
There will be a service at 4.00 pm on Sunday 6th December
Due to social distancing, the number of people will be limited, so please book here, or call 0114 2584164 and leave your name and telephone number and the number of people coming.
Wednesday service
There is a Zoom service at 11.00 am every Wednesday. The format of the service is readings with pauses, a led meditation, a psalm and prayer, with some music at the beginning and the end. There will be some time for conversation together at the end. Many thanks to Imogen for organising this service.

Unfortunately you can no longer join the service by phone to listen and speak without being on a computer - this feature has been removed for the time being because of increased demand. One way round this would be for someone to have a phone open on speaker setting so that you could listen in to the service that way. If you would like to do this please contact Janet Loughridge (258 4164).
The links to the Zoom meeting will be sent in a separate email message on Tuesday.
So why not join the Wednesday service as well as one on Sunday?
We will also be holding Taizé Prayer for Advent at 7.00 pm on Zoom every Wednesday until Christmas
Do join us for this time of quiet, reflective prayer as we prepare for Christmas. The service lasts about 30 minutes. Click here to join the service - please try to join a few minutes before 7.00 pm so we can start on time!
The church is still open for private prayer on Thursdays, from 10.00 am - 12.00 noon. Please DO NOT VISIT if you are feeling unwell, and click here to see the rules you will need to follow when you visit. Face coverings are compulsory.
We have carried out a thorough risk assessment to make sure we do this safely.
The church garden is open to the public and you are welcome to use it for prayer and meditation, but please observe social distancing and wash your hands after visiting, as the seats are not sanitised.
Our income has fallen dramatically, but we still need money to carry out our vital work. We have set up an online giving page where you can donate safely and securely to help us keep things running. Click on the button to donate!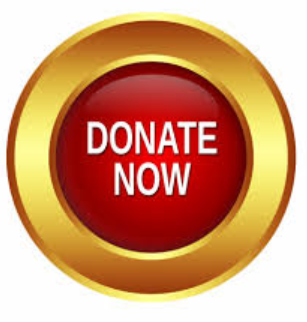 Choose from one of the set amounts or choose your own amount - and if you pay tax, don't forget to complete the Gift Aid declaration to increase the amount we receive by 25%!
---
Our previous live-streamed services are still available to view - you can find the links here.
We have set up a Facebook Group, as well as our regular Facebook Page, to help members of the congregation stay in touch. To join the Group please search for 'SAPLC Facebook Group' on Facebook.
We also have a WhatsApp Group - if you would like to join this, please send your mobile number to Clare: clare@standrewspsalterlane.org.uk.
The Church of England has some tips for dealing with loneliness and isolation and 13 daily reflections to support good mental health.
If you are worried, isolated or just need to chat to someone from the church, our Minister Gareth Jones is available: Tel. 0114 250 8251 or email garethjones11@googlemail.com
If you need practical help at this time, you can contact Sheffield City Council.