St Andrew's Psalter Lane Church
Weekly Newsletter
Sunday 26th November
Sunday before Advent, Christ the King
9.15 am Holy Communion Revd Cheryl Collins
10.30 am Morning Worship Judith Roberts
Collect
God the Father,
help us to hear the call of Christ the King
and to follow in his service,
whose kingdom has no end;
for he reigns with you and the Holy Spirit,
one God, one glory.
Readings Ezekiel 34: 11-16, 20-24
Matthew 25: 31-46
Hymns StF 335 Rejoice the Lord is King
StF 479 The King of love my shepherd is
StF 673 Will you come and follow me
StF 188 There's a light upon the mountains.
This service will also be live streamed and you can watch it here from 10.30 am.
There is a Junior Church Activity sheet available here.
NEXT SUNDAY
Sunday 3rd December
First Sunday of Advent
10.30 am Advent Carol Service Jenny Carpenter
---
THIS WEEK
Tuesday 28th November
2.00 - 4.00 pm - Tuesday Café in Shirley House
The café is for those living at home with memory loss or dementia and their carers. Hot drinks and cakes, music, memories, singing, stories and more. For further information ring the church office (0114 2678289) or email office@standrewspsalterlane.org.uk.
7.30 pm ECC meeting in the narthex
Wednesday 29th November
10.30 am Holy Communion in Church
Thursday 30th November
2.15 pm Afternoon Housegroup Meeting in Room 3, SH
7.30 pm Choir Rehearsal in church
Saturday 2nd December
9.30 am Working Party in the church grounds
---
NEW! You can listen to a podcast of our recent services here!
---
Spire Repair
The work on the spire has now been completed and the scaffolding removed. Look up on your way to church and see our beautiful shiny spire pointing the way to heaven for all Nether Edge and beyond!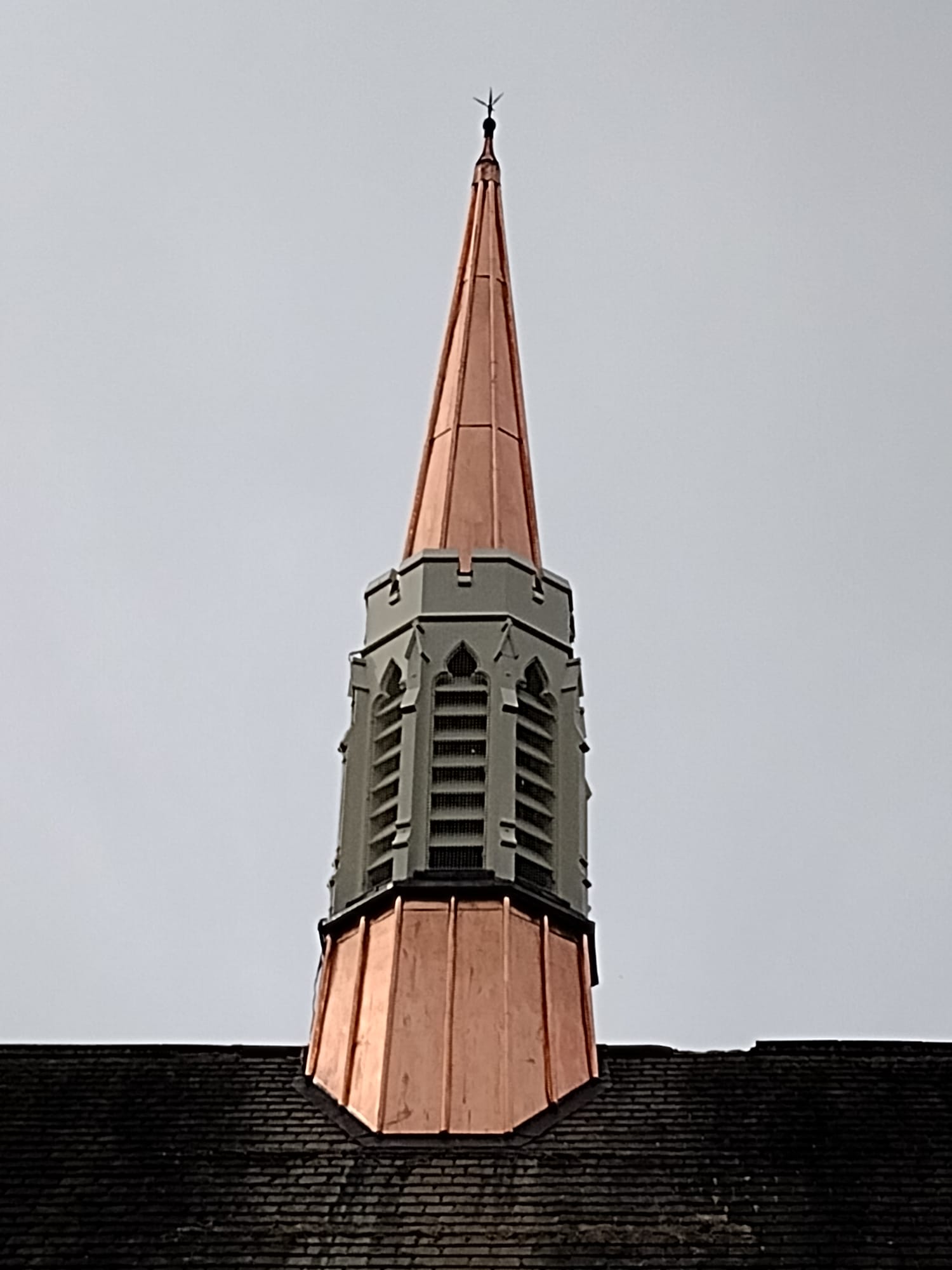 We are so grateful to all who helped to make this such a successful project - the Spire Group (Jenny Carpenter, John Cripps, Joe Dey, John Harding and Alistair Morris), especially John Cripps, for all their planning and for sourcing and applying to the funding bodies; the funding bodies who supported us so generously and the congregation and neighbours who made wonderfully generous donations; the architect and contractors who have done a great job and were very flexible in letting us have access to the church when we needed it. We have been very blessed!
You can find out more about the Spire Restoration Project here.
If you would like to support the ongoing work of St Andrew's Psalter Lane Church, you can do so by clicking on the button below.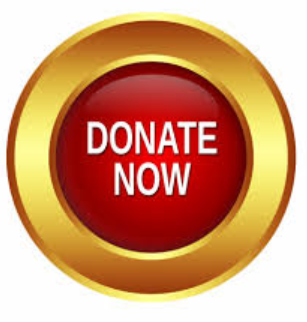 You can also donate by BACS: Sort code: 05-08-08 Account Number: 36930499
or by cheque payable to: St Andrew's Psalter Lane Church, and posted to St Andrew's Church Office, 31 Psalter Lane, S11 8YL.
Don't forget to Gift Aid your donation if you can, as this will increase the amount we receive by 25%!
---
NOTICES
Housegroups The afternoon and evening housegroups have started up again. Following the launch by Rev Inderjit Bhogal on 17th September of the SAPLC Church of Sanctuary project, the housegroups will study his book Sanctuary: the hospitality of host, guest and stranger.
The afternoon group will meet on Thursday afternoons in Room 3, Shirley House, and the evening group on Wednesday evenings in members' homes. Both groups would welcome new members – contact Judith (tel 236 1531) for the afternoon group or Janet (tel 258 4164) for the evening group.
St Andrew's Music Festival Another wonderful festival! Many thanks the new Director of the Festival, Gavin Usher. Many thanks also to the volunteers for the refreshments at some of the concerts.
Giving Envelopes 2024 If you would like to join the giving envelope scheme please speak to Janet Loughridge. If you do not give to the church through the envelope scheme or by bank standing order, please have a word with Rodney Godber (tel 0114 266 3893) who will explain how this makes your giving to the church easier and more beneficial.
All We Can Extraordinary Gifts and Loose Change Appeal
Extraordinary Gifts The extraordinary gifts featured in the brochure are a unique way to make a lasting impact on the lives of those we serve from sustainable agriculture to education initiatives. Your contribution can truly make a difference this Christmas and for years to come. To ensure your extraordinary gifts arrive in time for the holidays we encourage you to place your orders by the 13th of December. Not only will you be spreading festive cheer but you'll also be supporting our partners who put hope who put communities in the driving seat.
You can explore the Extraordinary Gifts and place your order by going to this page.
Loose Change Appeal Thank you so much for all your donations to All We Can. The collection bowl will be out during Sunday service so please bring along any small change. Thank you again.
Clifford All Saints School
Community monthly prayer group If you are unable to attend but would like to share a prayer request for the group please click here.
The Psalter Lane building is now closed, and the whole school is at the Ringinglow Road site. The Morris School window - originally one of the pair in old St Andrew's, of which the one in the narthex is the other - has now been installed in the Ringinglow Road building and looks wonderful. There is a photograph of it on the board in the narthex.
'I took a bundle of SAPLC Christmas cards to the school on Friday, to go out in the children's book bags to all school families. I had a wonderfully warm welcome from the Deputy Head, Hannah Wood, and a tour of the school, including the Morris Window which used to be in the hall at the Clifford Road building. They have also taken all the memorial plaques from the old building, which are being cleaned and restored before going on display.
The school would welcome visitors from SAPLC, and would be very happy to have offers of help with listening to children read – this is a lovely way of connecting with the school and most rewarding. Telephone 2662977 to find out more.' Janet Loughridge
Church in Schools Project: Porter Croft School in SheffieldTeam Leader of 'Faith and Fun for Families' Heather Waller looks back on a year of celebrating diversity at Porter Croft School in Sheffield. The Diocesan-wide Church in Schools project has enjoyed a number of highlights this year in a multi-cultural inner-city school in Sheffield. The Church in School congregation, 'Faith & Fun', finish each session with a British Sign Language-signed UK Blessing. In February, a teaching assistant burst into the hall during this time because she was so moved by the music and felt compelled to come and see what it was. Then in March, a cleaner paused during her shift and at this point came into the hall to stand and soak in the atmosphere. One of the dads who is also not a church-goer was sitting with his eyes closed, really seeming to be connecting with God.
You can read more about this story in the latest issue of Network Magazine at https://www.sheffield.anglican.org/wp-content/uploads/2023/10/Network-Magazine-Autumn_2023.pdf#page=32
Energy Affordability Helpline Know anyone who is struggling to pay energy bills? Citizens Advice Sheffield's new Energy Affordability Line offers personalised fuel debt advice and income maximisation. Their specialist helpline connects people with skilled Energy Advisers who can provide benefit, debt and energy efficiency advice and help you with problems you are having with your energy supplier.
They can help you to:
Maximise your income by providing benefit and debt advice

Reduce fuel debts by negotiating with creditors and securing financial assistance

Access increased support through the Priority Services Register, Warm Home Discount, Tariff Checks, grant applications, and more

Reduce future fuel costs by accessing support with energy efficiency within their home.
Call the Sheffield Energy Affordability Helpline on 0800 448 0721 (Mon-Fri 10am-4pm, excluding bank holidays).
Psalm 27 Garden in the General Cemetery A garden has been designed by 24 year old Ollie Pike, recent student at the University of Sheffield who won the RHS Young Designer of the year competition. He was inspired to design the garden by hearing Psalm 27 at a funeral. The Garden is now open to the public in its permanent home at the Sheffield General Cemetery, where it's been called 'an amazing miracle'. The cemetery is now a conservation area and a local nature reserve, owned by Sheffield City Council. For more information see here.
The Tuesday Café The café is open every Tuesday from 2.00 - 4.00 pm in Shirley House. The café is for those living at home with memory loss or dementia and their carers. Hot drinks and cakes, music, memories, singing, stories and more. For further information ring the church office (0114 2678289) or email office@standrewspsalterlane.org.uk.
Advent and Christmas Music at SAPLC: A message from Kit Swanson:
Thanks to everyone who made the harvest singing such a success. There will be two opportunities for us to sing together as a choir this festive season. The first is on the first Sunday of Advent, 3rd December, at 10.30 am, and will be similar to the harvest festival in that the choir will lead singing as part of the service. The second is our Carols by Candlelight service on the 17th December, at 6.30pm. Rehearsals for these are as follows:
Thursday 30th November 7.30 - 8.30 pm
Sunday 10th December after church
Thursday 14th December 7.30 - 8.30 pm
Sunday 17th December 4.00 - 5.30 pm
And the music we have planned is:
Advent
StF 180 O come, O come Emmanuel
StF 181 Of the Father's love begotten
StF 188 There's a light upon the mountains
StF 188 Lo he comes with clouds descending (all congregational)
StF 179 My Lord what a morning in four part harmony as a choir piece.
Christmas
Choir stand-alone pieces:
Patapan
StF 210 Love Came Down at Christmas
The Calypso Carol
Still Still Still
Congregational:
H&P 104 Good Christians All Rejoice
H&P 98 Cradled in a Manger Meanly
StF 215 See Amid the Winter Snow
StF 213 O Little Town
StF 190 Angels from the Realms
StF 222 Who Would Think
StF 112 O Come
I look forward to seeing (and hearing!) as many people as possible at rehearsals! Please do get in touch kitswanson@outlook.com to let me know if you're coming along or to ask any questions.
As we are not yet even in Advent (!) I shall leave you with a more seasonally appropriate wish that there is space, reflection, and comfort in this period of remembrance. Keep well! Kit
Christian Aid carol singing, Saturday 2nd December Please 'Save the Date' for this year's carol singing. Christian Aid have permission to sing at the bottom of the Moor; they do have a permit for singing in Fargate, in which case they would be based at Central United Reformed Church, but the state of the area at the moment makes this look unlikely - watch this space for more information. They will probably combine some of the later groups and finish singing at 4.00 pm. Last year they raised £749 - Sheffield is the city that raises the most funds, over the year, for the charity.
We have received a phone call from Sara Millard, asking if there might be some people from SAPLC who plan to join the Christian Aid carol singing on the Moor, probably near Sports Direct, 2nd December 2.00 - 3.00 pm
If you plan to join in, please let Chris Rogers (Tel 2554540) know so that he can give Sara an idea of numbers.
More carols on 2nd December! 2023 Derbyshire Carol Workshop, Saturday 2 December 2023, 10.00am-5.00pm in Hathersage Memorial Hall. Details of what we will be singing will be posted shortly on the Village Carols website. In the evening we will have an informal carol sing in a local hostelry, venue to be confirmed. We hope you can come and support the day. Please book ASAP.
Go to https://www.villagecarols.org.uk/events/derbyshire-carol-workshop-2-dec-2023.html for further details and booking information
Handel's Messiah, 4th December at Victoria Hall, 7.00 pm Completed in just 24 days, Handel's Messiah is one of the most glorious and popular choral works. The Sheffield Bach Choir is pleased to be able to present our annual rendition of Handel's marvellous oratorio, accompanied by the National Festival Orchestra with four outstanding soloists. See the Diocese website for more details.
Places of Peace - A Christmas Event for Gaza Tuesday 5th December 12.30 - 2.00 pm The Amos Trust's Christmas tour stops off at St Aidan's Church, 2 Manor Lane, S2 1UF.
Join us for a light lunch and to hear about Amos Trust's work in Gaza and the West Bank featuring films and special guests from Palestine.
No charge, but contributions welcome towards costs, and the Amos Trust's Christmas appeal supporting partners in the West Bank and Gaza.
To register, go to Amos Trust Christmas Tour 2023
www.amostrust.org.uk/diary/amos-trust-christmas-tour-2023
There will be Palestinian refreshments
Taizé in Advent Quiet reflective worship with gentle repetitive singing on Thursdays at 7.00pm in the Church, December 7th, 14th & 21st.
Christmas Praise in the City On Thursday 7th December join Cliff College, Victoria Hall, The Foundry and the Sheffield Methodist Circuit for this unforgettable evening of festive joy, taking place at Victoria Hall, Sheffield! Get ready to immerse yourself in the spirit of Christmas as we celebrate the most wonderful time of the year and look forward to the coming of Christ at Christmas. Sing along with heartwarming carols, listen to the Salvation Army brass band, hear an uplifting message and soak up the Christmas atmosphere. They can't wait to welcome you to this magical evening! To help them estimate numbers, please reserve your space here: https://www.eventbrite.co.uk/e/christmas-praise-in-the-city-tickets-726694662297
Children's Craft Afternoon Sunday 10th December 4.30 - 6.00 pm Come and join the Junior Church for an afternoon of crafting, sing song and pizza as they make an altar cloth for Christmas - everyone welcome!
Christmas Concert with Sheffield Folk Chorale, 13th December 7.00 pm Come and join us at Mother of God Church on Abbeydale Road for our Christmas Concert. Not only will you be able to celebrate the festive season by singing traditional carols but you will also be able to listen to the amazing Sheffield Folk Chorale performing and also help to raise much needed funds for St Wilfrid's Centre A large group of around 60 people make up the choir and it's sure to be a very memorable evening.
Sharing the Christian Story: Why Public Witness Matters Today - Tuesday 27th February at Sheffield Cathedral The Bishop of Sheffield's Annual Lecture 2024 Speaker: Rt Revd Graham Tomlin, Director of the Centre for Cultural Witness, based at Lambeth Palace in London. Bishop Graham was formerly Bishop of Kensington and founding Dean of St Mellitus College and is the author of numerous books. Please put the date in your diary now.
SAPLC Jigsaw Library Do you love doing jigsaws? Do you have a collection of completed jigsaws that you'll never use again? why not donate them to our Jigsaw Library and borrow a new one at the same time! - No charge but donations towards church funds are welcome!
Regular Giving to St Andrew's Psalter Lane Church If you do not give to the church through the envelope scheme or by bank standing order, please have a word with Rodney Godber (tel 0114 266 3893) who will explain how this makes your giving to the church easier and more beneficial. If you would like to join the envelope scheme, please contact Janet Loughridge (tel 0114 258 4164)
Car Parking If you are parking at church, please take care not to park directly opposite the yellow lines marking the path towards Shirley House and Southcroft, as this blocks pedestrian access for people coming to church from Southcroft
Methodist podcast Have you discovered the weekly Methodist Podcast? Available here and on most audio streaming services. Half an hour of inspiring stories, emerging ideas and latest news from across our national church.
Sheffield Interfaith news Visit the Sheffield Interfaith website for news on what they are doing, such as their Winter Party: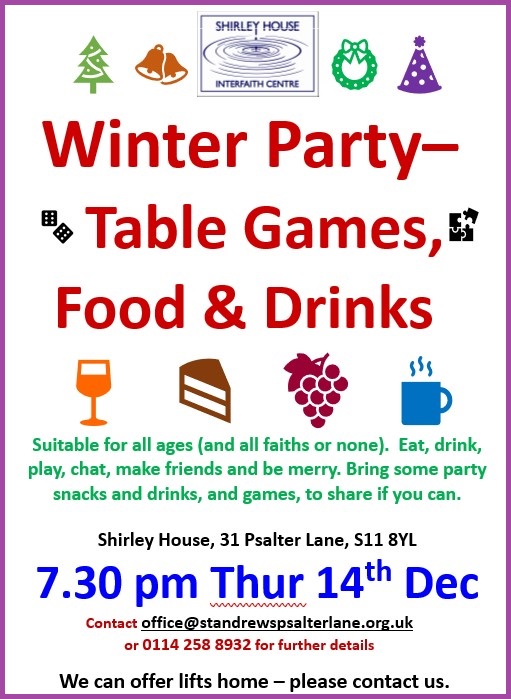 Please also note this post about getting the Zoom links for their events.
---
Foodbank and Baby Basics
Firvale Foodbank and Baby Basics are still desperately in need of help, so that they can help the most vulnerable members of society. If you are able to give anything, donations can be dropped off at the following addresses – why not combine donating with your legal daily exercise?
Food Bank
Donations can be left at the rear of 16 Edgehill Road, S7 1SP or in Church. Fir Vale continue to take referrals and just under 100 people are being supported. Food and cash donations are welcome. Food is especially welcome. The Food Bank particularly need pasta, rice, UHT milk, toiletries and toilet rolls, but are ever grateful for canned goods.
They need
Baked Beans

Canned Tomatoes

Pasta/rice

Toothpaste

Canned meats/fish
If you would like to give cash, you can donate here, or you can send a cheque made out to St Cuthbert's (write Fir Vale Food Bank on the back) and send to Joe Dey at 16 Edgehill Road, S7 1SP, who will hand it over when he delivers to the Food Bank at St Cuthbert's.
Baby Basics
Gifts, especially nappies, toiletries and hand-knitted items (cardigans and jumpers for 2-5 year olds rather than babies if possible), and the following items for 2-5 years are always in short supply: pyjamas, underwear, socks, tights and warm trousers/jogging bottoms for boys and girls.
At the moment, they really need 0-3 month clothing, baby socks and scratch mitts, 3-6-years clothing, baby wipes, nappy cream, cotton wool, 0-2year toothpaste and brushes, kids shampoo & conditioner for afro/curly hair.
Donations can be left in the basket at 51 Barkers Road, S7 1SD or in Church; cash donations should be put through the letter box. If Pat is away she will remove the basket from her front door step and she asks that items aren't left at her door if the basket is not there. If you have something you can put through the letter box, that would be alright. The Facebook page also has information about donating via their Amazon wishlist. Donations can be left in the box at 51 Barkers Road, S7 1SD; cash donations should be put through the letter box. Pat would be able to collect donations if you cannot get them to her – telephone her on 2014881 if you would like to donate this way. You can also now donate online.
We are grateful to all the very kind people who are taking these donations to where they are so desperately needed.
---
Help Needed!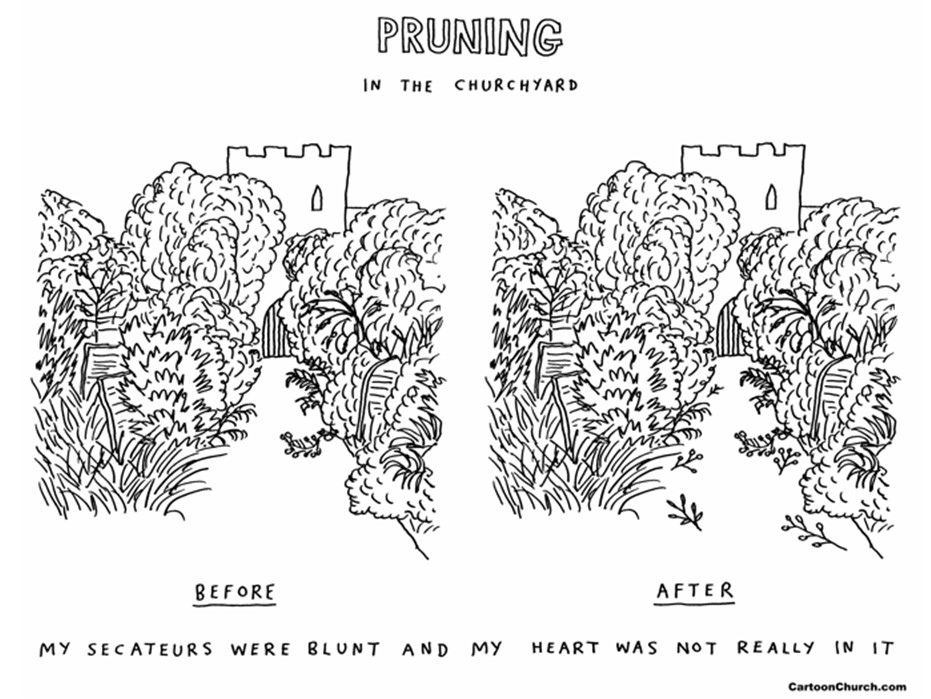 (Not necessarily an accurate representation of a Working Party!)
A message from John Cripps:
'Many thanks to everyone who helped at the Working Party on Saturday 5th November. The next Working Party will be on Saturday 2nd December. Do come along and help – even an hour can help make a great difference to the appearance of the church grounds, which we can all enjoy. More volunteers would be very welcome!
Everyone is welcome to carry out gardening tasks at other times convenient to them. The compound has a new lock and that and the tool box have combination padlocks. Please ask me (01142 588932, 07914 290016, cripps@uwclub.net) if you want to know the combination and if you open either lock, please take care the combination is set correctly before closing it. The tool box contains the mower, strimmer and some small tools and there are additional tools in the cellar.'
---
The Green Box
Calling all potential climate activists!
Action needed please!
Climate Justice Coalition - Day of Action 9th December
There will be a rally and march in Sheffield as part of the Climate Justice Coalition's Day of Action linked to COP28. Gather with Banners and the Samba Band at Devonshire Green at noon for speeches and songs then march via Fitzwiliam Street and Charter Row to City Hall for further speeches and music. Inderjit Bhogal is one of the invited speakers. Please come and join our Sheffield Methodists for Justice and Peace flag. COP 28 opens on 28 November in Dubai. Please pray that significant progress will be made in reducing fossil fuel extraction and use and that realistic contributions will be forthcoming to the Loss and Damage Fund set up at COP27. A recent report revealed that the richest 1% of the world's population has carbon emissions equivalent to the total emissions of the poorest 60%. Another says that on present evidence we are heading for a 3 degree temperature rise before the end of the century which means catastrophe. Jenny Carpenter
We all want to care for the planet, but can't do everything at once. Here is the next in a series of tips to think about. Some can be done today, some this month, and some will not be for you. But remember - everyone can do something!
Eco Tips
November – Recycling
Be pedantic about your recycling! Think about every item you put in the bin; should it go to landfill? Loo rolls come on card tubes, sweets come in foil or paper wrappers, apple cores can be composted and most packaging can be recycled now.
See the Eco Group page for more Green news!
---
This page contains information about upcoming services and events and groups that we support.
Please contact clare@standrewspsalterlane.org.uk or janet.loughridge.45@gmail.com if there is anything you would like to see or to add, or anyone you would particularly like us to pray for.
Because we are back in church for Sunday morning services, this Newsletter will be more like the Notices that we used to hand out each week, but will continue to be emailed instead of being printed to hand out in church. This will be better for us as an Eco-Church. There will be printed copies in church, but only for people who cannot receive the emailed newsletter.
We will be live-streaming our main Sunday morning services, for those people who aren't able to join us in church.
All contributions, serious or light-hearted, would be very welcome!