Thank you to everyone who helped to create the SAPLC Palm Sunday service on YouTube and to everyone who attended!
At least 100 people watched the live-stream, which is still available on the link above.
Our Good Friday Meditation service will be available to live-stream from 12.00 noon on Friday 10th April; you will be able to follow the service in the booklet and click on the links for a streamed version of each section.
Watch this space for details of our services for Easter Sunday!
---
We are sad to announce that, following advice from both the Church of England and the Methodist Church, we have had to take the difficult decision to suspend all services until further notice.
We will continue to look at creative ways of exploring how worship, care and service might still be offered to church members and to the wider community - scroll down this page for some ideas on this
We will be producing a Weekly Newsletter which will include a message from Gareth, news and details of the live-streamed service. We will be emailing this to every member of the congregation who uses email, and posting or delivering (at a safe social distance) to those who don't; additionally, the Newsletter is available here on the website (see here)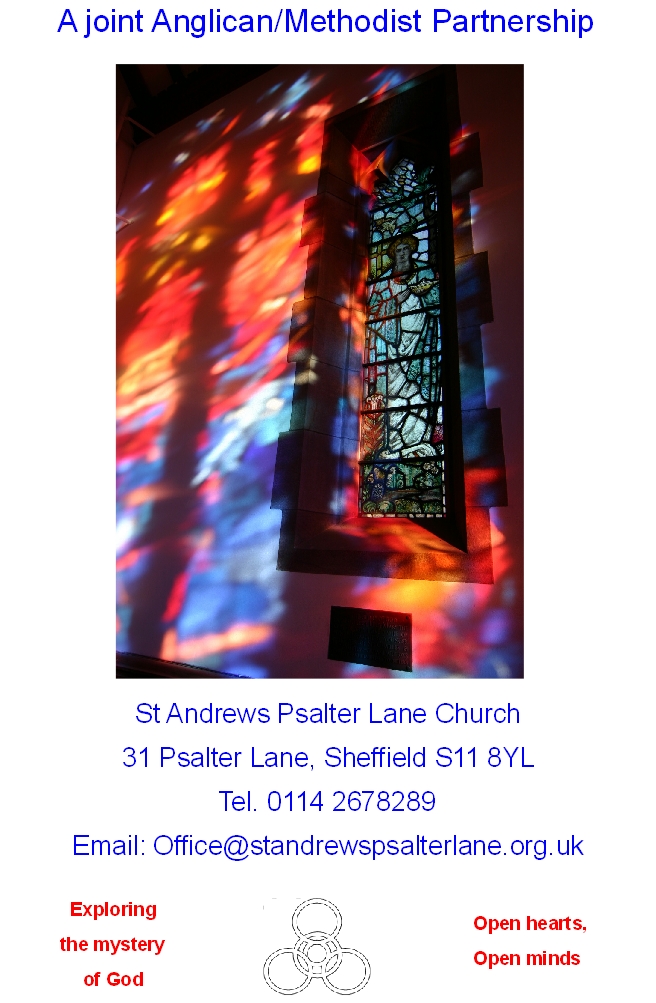 For Easter Sunday, 12th April, Imogen will be leading a Sunday2 style service as planned. Gareth is planning to conduct a Communion service for both SAPLC and Highfield Trinity that will link with - and form a whole with - Sunday2. Hopefully the liturgy will be sent out in advance to those who aren't able to join the live-stream, and hopefully it can also be displayed on the screen for those participating via YouTube.
Watch this space for further details and links to the live-stream!
Our previous live-streamed services are still available to view - you can find the links on the Weekly Newsletter page.
We have set up a Facebook Group, as well as our regular Facebook Page, to help members of the congregation stay in touch. To join the Group please search for 'SAPLC Facebook Group' on Facebook.
We also have a WhatsApp Group - if you would like to join this, please send your mobile number to Clare: clare@standrewspsalterlane.org.uk.
The Church of England has some tips for dealing with loneliness and isolation and 13 daily reflections to support good mental health.
If you are worried, isolated or just need to chat to someone from the church, our Minister Gareth Jones is available: Tel. 0114 250 8251 or email garethjones11@googlemail.com
If you need practical help at this time, you can contact Sheffield City Council.