Spring Concert 12th May 2018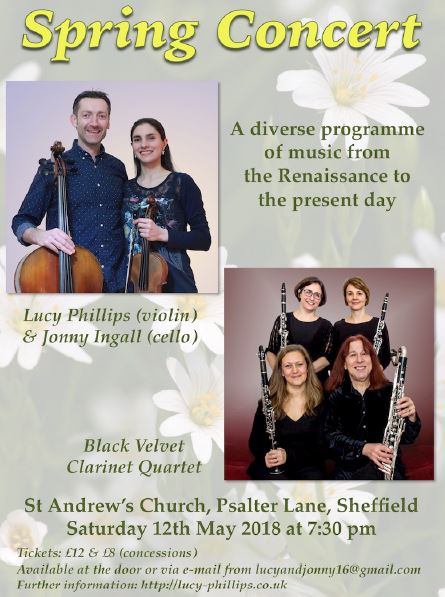 The concert will feature the wonderful violin and cello duo Lucy Phillips and Jonny Ingall and the clarinet quartet 'Black Velvet'. The varied programme of music will include items by Ravel, Aubert, William Byrd, Stravinsky, excerpts from Kurt Weill's 'Threepenny Opera', as well as light-hearted music by Gershwin and Scott Joplin.
Lucy Phillips and Jonny Ingall may be familiar to those of you who follow local Sheffield orchestras and Lucy is a well-known and respected freelance violinist, teacher and founder member of the Sarasato string quartet, in which Jonny also plays. Lucy has appeared with the Black Velvet clarinet quartet in previous concerts in St Andrew's and we are delighted to collaborate with her and Jonny on this occasion.
The Black Velvet clarinet quartet consists of Kate Leadley, Becky Stroud and Steve Dumpleton (bass clarinet), along with new member, Heather Elphick, who also brings the additional colour of the E-flat piccolo clarinet to some of the music, taking the quartet sound to exciting new levels.
St Andrew's Church, with its warm comfortable environment and excellent acoustics, is becoming a favourite concert venue for Sheffield musicians and audiences alike. Overall, this promises to be a lovely concert and we do hope you can come. Tickets are £12 and £8 (concessions), available on the door or in advance