The Eco-Church Conference
The Eco Church Conference, held on Saturday 21st October 2017, was a huge success - with over 100 attendees, it was a positive, creative and inspiring day. We have more ideas than ever for how we can care for God's creation; and it was wonderful to welcome so many people to SAPLC.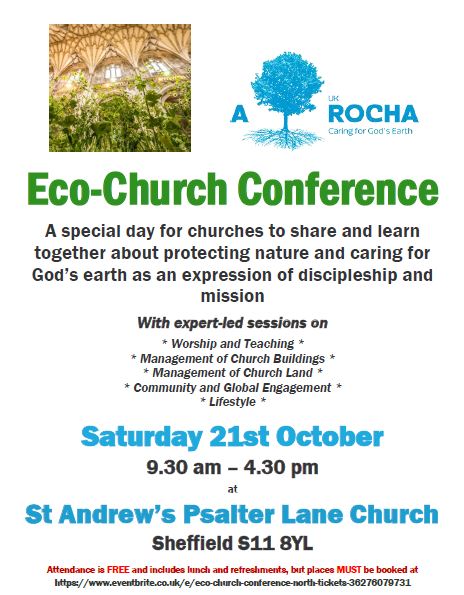 The original press-release for the conference:
One of the UK's first ever Eco Church Conferences takes place at St Andrew's Psalter Lane Church on 21st October.
This presentation of high-level know-how for grassroots application is being offered in two centres north and south of the country – with St Andrew's being the northern venue. This church is already a proud winner of the Silver Award in the Eco Church scheme.
'We feel honoured and delighted to be hosting A Rocha UK's northern Eco Church Conference,' said St Andrew's Psalter Lane Church's Eco Group Co-ordinator Chris Lowry, 'which will give us the chance to deepen our understanding of how we bring our faith to life in the way we treat the planet.
'Justice – for the natural world, in our care for fellow humans in all parts of the world, and for maintaining the diversity of creation – is extremely important to us. In our view, caring for the planet is a God-given requirement, for which the Eco Church Award helps us focus our thoughts and activities.'
Organisers of the Eco-Church Conference are Christian conservation charity A Rocha UK with the Church of England's environmental campaign Shrinking The Footprint. Churches will learn about protecting nature as part of their mission, from the following experts:
– Dr Robyn Pender of Historic England's Building Conservation and Research Team;
– Dr Ruth Valerio, Tearfund Global Advocacy and Influencing Director and former member of A Rocha UK's leadership team;
– Andy Atkins, A Rocha UK CEO;
– Bishop of Kingston Rt Rev Richard Cheetham from the Church of England's Environment Working Group;
– Andy Lester, A Rocha UK Conservation Director;
– Rev Dave Bookless, A Rocha International Director of Theology.
They will present seminars and surgeries – and answer questions from delegates. Stories will be shared of churches working towards the Eco Church Award.
Eco Church is A Rocha UK's award scheme for churches in England and Wales to become 'good news for God's earth'. Almost 700 churches have registered for the free online survey and supporting resources.
Conference admission is free. Book online for Sheffield at: https://www.eventbrite.co.uk/e/eco-church-conference-north-tickets-36276079731